Ashley Taylor
Exercise Physiologist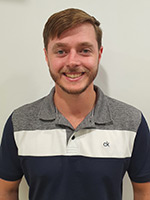 For Ashley, the most fulfilling aspect of his job is showing patients how a smart, realistic and simple approach to rehabilitation works towards improving function and reducing pain.
Ashley earned his Bachelor of Science in Exercise and Sports Science from Edith Cowan University in 2017. He is delighted to be a part of the Perth Sports Injury Clinic team and finds it satisfying to use his skills to help improve people's lives. Ashley enjoys helping patients get back to their favourite activities by working on musculoskeletal injuries.
His approach uses evidence-based training with a focus on education. To assist patients, Ashley stresses the importance of strength and conditioning with functional movements. His areas of expertise include the following:
Strength & Conditioning
Weight Loss Education & Management
Balance and Activity of Daily Living Training (for elderly patients)
Outside the Practice
When he's not working, Ashley enjoys competing in Brazilian Jiu-Jitsu, training for triathlons, freediving, gaming and camping.
Contact us today to schedule an appointment.

Ashley Taylor | (08) 9383 7882