Ellie Cusworth
Remedial Massage Therapist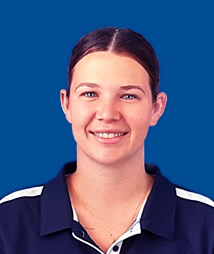 Ellie studied at the Australian Institute of Fitness, which is where she obtained her certification and wealth of knowledge that helps her to craft the perfect care plan for patients from all walks of life.
In addition to massage therapy, Ellie is happy to offer dry needling and cupping, and will soon be starting a certification course in Pilates.
When it comes to her therapy, her goal for patients is to enhance their quality of life by bringing better function to their muscles while reducing pain and discomfort. She hopes that she's able to make a difference in your life!
Ellie has a particular interest in working with patients who have lower back and hip tension but enjoys welcoming patients experiencing any muscular pain problems.
Outside of the practice, Ellie enjoys spending time with friends and considers herself to be a 'social butterfly'. She's eager to begin her Pilates certification and can't wait to see where that takes her.
Learn more about Ellie when you visit us for your next appointment.
Call or email today to make an appointment with our message therapists in Perth.
CONTACT US


Ellie Cusworth, RMT | (08) 9383 7882