Liam Pennington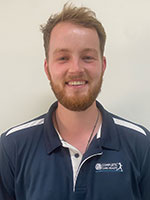 Physiotherapist
For Liam, the most fulfilling aspect of his job is being active and helping others be active. He loves addressing all conditions, particularly anything related to sport, and has a particular interest in all aspects of musculoskeletal physiotherapy. This includes addressing the spine and other joints.
Education and Approach to Care
Liam graduated from Curtin University with a Bachelor of Science (Physiotherapy) and has since upskilled himself with a Masters in Dry Needling. He's also taken a beginner course and two advanced ones in dry needling. In addition, he has over five years of massage and sports massage experience, and has worked in various physiotherapy settings.
I am confident and thorough in my approach, ensuring all aspects of your care are encapsulated in our session, including a clear and explained diagnosis, plus manual (hands-on) and active (exercise-based) therapy to assist you with your presenting complaint.
Outside of Work
In his spare time, Liam loves all things sport and activity, including footy, running, and cricket. He also spends a lot of time with his partner and dog.
Contact us today to book an appointment with Liam!

Liam Pennington | (08) 9383 7882