Liane Pinstaar
Remedial Massage Therapist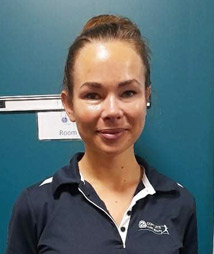 For Liane, the most fulfilling aspect of her job is seeing the great results that clients get. "I like working with my hands and helping people. It makes me love my job seeing happy and grateful faces after the massage session."
To prepare for her career, Liane earned her diploma from the Australian College of Sport and Fitness.
"For each client, I look at the whole body to see what might cause the pain. I do my best to eliminate it and advise the client what they should do, so that the problem doesn't return." Liane uses different combinations of techniques, depending on each client's needs. These methods include
Deep tissue
Trigger pointing
Cupping
Stretching
Joint mobilisation or myofascial release
Liane likes to help clients with any issue, but her strongest area is working on neck and shoulders and relieving stress/anxiety. She is currently taking an Energy Healing course, and is interested in healing any body issues naturally by using herbs, body work and emotional work.
Outside Of The Practice
When she's not at the practice, Liane enjoys getting out of the city on weekends and being in nature. She meditates daily and goes for early morning runs. A former athlete in Estonia, Liane won many championships in long jump and triple jump there. In 2009, she won the European Championships in the triple jump (junior class).
Call or email today to make an appointment with our massage therapists in Perth.

Liane Pinstaar, RMT | (08) 9383 7882