Mike Stovell
Senior Physiotherapist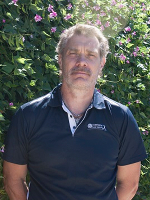 Mike graduated from Curtin University School of Physiotherapy in 2003 and is also currently studying his Masters of Science Rehabilitation.
Prior to becoming a Physiotherapist, Mike was a Podiatrist and was the second Physiotherapist in Australia to also have qualifications as a Podiatrist which he obtained from the West Australian Institute of Technology, School of Podiatry in 1984. Since then, Mike has worked in a variety of private practices over the last thirteen years working with patients of a walks of life and ages.
Mike has provided Sports Physiotherapy to all levels of athletes, from recreational to WAFL, state league netball as well as the Great British Wheelchair Basketball team in 2009.
Mike's specific interests focus on functional rehabilitation, shoulder pain management, lower limb pain management by integrating manual therapy as well as prescribed exercise routines to manage dysfunctions. He is also able to use dry needling where required.
When not at work, Mike likes to keep fit by going to the gym and completing obstacle courses and also enjoys reading comic books.
Contact us today to schedule an appointment.
CONTACT US


Mike Stovell (Physiotherapist) | (08) 9383 7882