Azusa Omori
Remedial and Sports Massage Therapist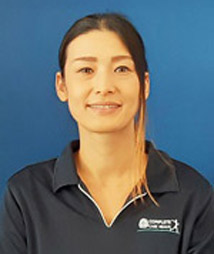 We're proud to have Azusa as a member of our team, working as a remedial and sports massage therapist. She received her diploma from the Australian College of Sports and Fitness, where she learned a variety of techniques and treatments, including sports massage, lymphatic drainage, stretching, deep tissue work, Swedish massage, myofascial release, pregnancy massage, reflexology and trigger point therapy among others.
Azusa believes in tailoring each massage to the patient's needs, helping them have the best possible healing experience. She'll work to craft a custom plan of action for your session, focusing on your problem areas.
Azusa stays up to date with the latest industry advancements by attending professional development courses so she can bring unmatched care to her clients.
Her wide variety of treatment techniques include:
Deep tissue
Trigger Point Therapy
Myofascial Release
Swedish
Muscle energy technique
PNF stretch
Functional Release
Positional Release
Lymphatic drainage
Pregnancy Massage
Sports Massage
Reflexology
Functional Release Cupping
Stational / Slide Cupping
Kinesiology taping
Areas of expertise:
Neck, upper-lower back pain
Leg, arm and foot pain
Tension headache due to desk work, Upper/Lower crossed syndrome etc)
Herniated disc pain
Frozen shoulder
Tennis elbow
Bursitis
Joint impingement
Sciatica
Outside of the Practice
When she isn't helping patients relax in the practice, she enjoys stretching, reading, listening to music and spending time in café's with friends as well as fitness-based dance exercise.
Learn more about Azusa when you visit us for your next appointment. She looks forward to welcoming you into our care.
Call or email today to make an appointment with our message therapists in Perth.
CONTACT US


Azusa Omori, RMT | (08) 9383 7882