Massage Services at Perth Sports Injury Clinic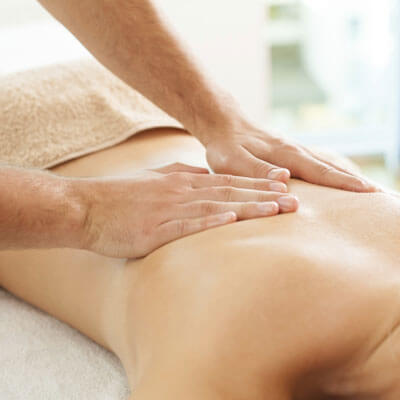 Remedial Massage and Sports Massage is available at Perth Sports Injury Clinic during the week and on weekends, for those seeking therapy when other clinics may be closed.
Experienced Massage Therapists
Our therapists have extensive knowledge and experience in the art of massage, having acquired the certificate two in remedial massage they hold registered provider numbers.
Practical experience and professionalism enable our team to effectively manage muscle stiffness and pain which provides welcome relief to our clients.
Our team takes part in group training with our chiropractors, physiotherapists and musculoskeletal practitioners to improve knowledge and skill. This teaches them techniques that are wide ranging and technically advanced, this also improves treatment.
Benefits of Massage
Enhances endurance and performance
Faster recovery
Better circulation
Muscle repair stimulation
Increased energy, focus and vitality
Stress relief
Eliminating toxins
Reduces pain
Boosts metabolism and weight loss
Injury treatment
Improves range of movement
Why come to Perth Sports Injury Clinic for massage?
Tranquil surrounds, free parking, open until late, all make getting a massage with our team of therapists so much easier for busy modern day people.
How good is a massage?
Massage therapy helps us relax and recuperate after battling through a busy working week. It reduces stress, improves blood circulation, speeds recovery from training and improves flexibility. Our team of Sports and remedial massage therapists will help you to relax and unwind with the perfect massage during the week or weekends.
About Massage
Massage combines many styles and techniques, providing a holistic alternative to pain killers. Different styles of massage are used for different people, different conditions and by different therapists to help with:
Injury management & rehabilitation
Soft tissue injuries
Muscle tears
Muscle strains and sprains
Lactic acid build up
Injury management & rehabilitation
Metabolic issues
Fluid retention and cellulite
Detoxification
Muscle exhaustion
Overuse injuries
Neck pain
Headaches
Back pain and stiffness
Symptoms of sciatica
Learn more about the various massage techniques we use at Perth Sports Injury Clinic or give us a call at (08) 9383 7882 to schedule an appointment.


Massage Services | (08) 9383 7882