Massage Therapy at Perth Sports Injury Clinic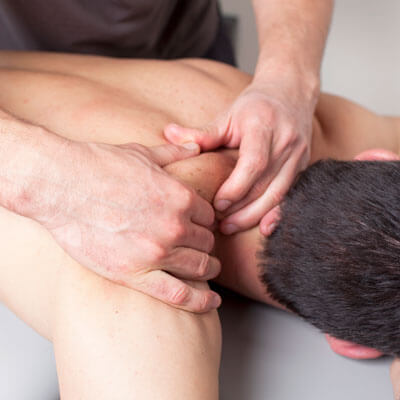 Massage therapy helps to relax and recuperate after battling through a busy working week. It reduces stress, improves blood circulation, speeds recovery from training and improves flexibility. Our team of sports and remedial massage therapists will help you to relax and unwind, treat tight and aching muscles from overexertion, relieve muscle tightness and tension due to work or sport and encourage blood flow.
Our therapists all have extensive knowledge and experience and are able to treat a wide variety of musculoskeletal issues. Sometimes- the source of pain is not the cause of the issue, it may just be where the problem is presenting as the body tightens up and tries to protect itself.
Free parking outside the clinic, late hours and open on weekends all make getting a massage with our team of therapists so much easier for busy people.
Benefits of Massage
Enhances endurance and performance
Promotes a faster recovery (from sport as well as surgery)
Improves circulation
Stimulates muscle repair
Increases energy, focus and vitality
Relieves stress
Eliminates toxins
Boosts metabolism and weight loss
Reduces pain
Improves range of movement
Treats injuries
Help for Many Conditions
Massage combines many styles and techniques, providing a holistic alternative to painkillers. Various forms of massage are used for different people and conditions. Our therapists help with a broad array of conditions including:
Trigger point therapy involves the use of various methods of massage techniques to relax and release trigger points in the body. Trigger points are hypersensitive areas in muscles, tendons or connective tissue that usually are tender to ttouch. Trigger point therapy is excellent for releasing spasm in tight muscles which develop trigger points. Contributing factors to trigger points include poor posture and repetitive strain injuries. Trigger point therapy can combine other forms of massage to relieve trigger points and adhesions in the muscles that work from the skin's fascia through to the different levels of muscle fibres.
Uses deeper pressure with more vigorous movements to relieve tightness and tension and break up any adhesions in the muscle fibers . It's good for relieving sports injuries, overworked muscles that have tightened up due to over use and helps realign muscle imbalances.
Promotes a sense of calm and relaxation to relieve stress and anxiety. The therapists uses a lighter pressure and longer strokes and gentle kneading along the muscles & fascia (the protective layer surrounding muscles, bones and joints). This increases blood flow and relieves muscle tension. It also encourages the blood flow around the body, increase oxygen distribution and helps flush out toxins.
Injury Management and rehabilitation Massage
Specifically focused on recovery from soft tissue injuries such as sprains and strains obtained through repetative strain injuries, work, accident or overuse of muscles. Our experienced therapists are able to assess the muscles'overall strength, flexibility, health and tension and based on individual needs, assess weaknesses or over-exertion. Through a combination of massage techniques, manual mobilisation, stretches and exercises, our therapists can help return muscles to how they are meant to function.
A remedial treatment is used to tackle muscle pain and stiffness often to a specific part of the body that is causing discomfort. Some muscle pain can be ongoing and relate to lifestyle or circumstantial situations. Our therapists will assess the area of discomfort, locate the cause of the issue and use a combination of massage techniques specific to the patient's needs to address the issue. A treatment plan may include some deep tissue and trigger point techniques which get deep into the muscle fibers to release tension.
A deep tissue technique is similar to a Swedish massage but gets deeper into muscle fibers and connective tissue by using more pressure. This technique helps break up adhesions (knots) in the muscle fibers such as scar tissue which may have developed from previous injuries or muscle overuse. The therapist will generally concentrate on a specific part of the body to relieve the knots and tension in that local area. The effects of this type of treatment can often leave you feeling a little sore afterwards- we recommend resting after treatment (no exercise of strenuous physical activity) and drinking plenty of water.
Women undergo tremendous physiological changes as their baby grows and develops while their biomechanical structure has to withstand the extra weight on their spine and hips. Pregnancy massage can help with swelling, lower back pain associated with the increase in pressure and shift in postural alignment and encourage blood flow tension. A regular pregnancy massage can also help the body to prepare and cope with the rigors of childbirth, release endorphins and lower blood pressure, all effects associated with relieving stress and tension.
Discover the Perth Sports Injury Clinic Difference
N.B- We recommend consulting your doctor prior to a treatment if you are prone to blood clots, low blood pressure, or have recently received medical treatment. Work on the deep tissue is known to lower blood pressure. Contact us today for an appointment at Perth Sports Injury Clinic.

Massage Therapy Wembley Downs, City Beach, Floreat, Perth WA | (08) 9383 7882